Home
Welcome to Pacific Fish Trax (PFX) – part of the Fish Trax information-sharing network. Pacific Fish Trax focuses on fisheries along the West Coast of North America. This site provides portals for fishermen, managers, and the public to access data collected by a number of scientific programs such as Project CROOS (Collaborative Research on Oregon Ocean Salmon). It also explains some of the inspirations behind our research and how we use these programs to improve fisheries and the fishing communities that depend on them.
Questions or comments? Please email us!
---
---
---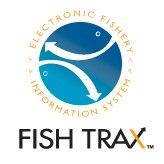 Pacific Fish Trax was created by Fish Trax Systems, Inc. This partnership between scientists, managers and industry representatives works to develop new tools for collecting and distributing fishery data, and to promote the use of these data in ways that support the health of natural resources as well as the communities that depend on them.