Portals
Find Your Fish
The Fish Trax information sharing network includes a variety of "portals" for making scientific and traceability data available to the public as well as to fishermen, scientists, and managers. Customers with tags or tracking numbers from Fish Trax Marketplace or Project CROOS fish can find information about where their individual fish was caught, or they can simply explore our data and discover what our fishery information systems have to offer!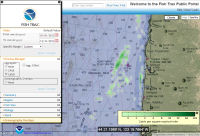 Pacific Fish Trax
Offering a Public Portal as well as specific portals for logged-in users, Pacific Fish Trax provides access to data collected by the Collaborative Research on Oregon Ocean Salmon project (Project CROOS) and other Genetic Stock Identification projects. Use the interactive map to see the distribution of Salmon catch locations along the coast, to watch how the distributions change over time, and to see the correlation between catch locations and oceanographic data such as sea surface temperature and chlorophyll levels.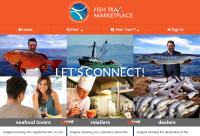 Fish Trax Marketplace
Initially developed as a marketing tool for the Red Snapper fishery in the Gulf of Mexico, Fish Trax Marketplace has expanded into a broad marketing platform that connects seafood consumers in restaurants and markets to the fishermen and processors who provide their seafood. Find Your Fish by scanning a QR code or entering a tracking number provided with Fish Trax Marketplace seafood and you will find out where that fish was caught, which fishermen and vessel it was caught by, and other important facts about the source and quality of the food. By providing customers with facts about the product as well as the stories of the people involved, we help them learn how to identify seafood they can trust to be high quality, sustainably caught and supportive of their local fishing communities.