Eric Schindler
Eric Schindler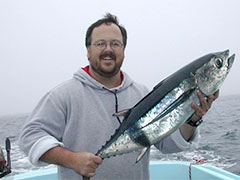 Manager:
Eric Schindler
Field:
Marine Resources Management
Affiliation:
Oregon Department of Fish and Wildlife
Hometown:
Newport, OR
Managing Since:
1984
Favorite
Seafood Dish:
Salmon and Albacore seared on a hot barbeque grill that is marinated in anything I can find.
I am a third-generation Oregonian who grew up in Hillsboro. Since 1986, I have lived in Newport, OR. This town is one of the friendliest places I know and I really enjoy the diverse educational opportunities provided through OSU and the Hatfield Marine Science Center.
I am an advisor on fishery management applications and sampling protocols for the Pacific Fish Trax's salmon project CROOS. In this capacity I help determine how the information compiled through the project can be integrated into the management process to enhance the current system.
I see one of the potential benefits project CROOS provides is the opportunity for fishermen to be able to shape their own destiny with the information they are gathering. The information is very localized (time and space). We haven't had this detail level before and so it could give us the ability to look at a small number of fish to achieve the same basis of information.
I have worked for Oregon Department of Fish and Wildlife for over 20 years and what I really enjoy about my work is the opportunity to educate people about the management process of Oregon ocean fisheries and the fish themselves.