Pete Lawson
Pete Lawson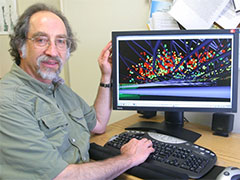 Scientist:
Pete Lawson
Affiliation:
Northwest Fisheries Science Center
Contact Info:
peter.w.lawson@noaa.gov
Hometown:
Newport, OR
Researching Since:
1970
Field:
Marine Biology
Favorite
Seafood Dish:
Grilled Fresh Salmon Steaks or Fillets — My favorite way to prepare it is simply add crushed garlic, soy sauce, and olive oil topped with sprigs of fresh herbs (thyme, oregano, or rosemary). Put it all in a tinfoil boat on the barbecue and quickly cook it until just done.
Pete has lived in Newport, OR for over 22 years and studied salmon and ocean conditions for just as long. He really likes living in this small coastal town because of its "lively intellectual and arts community and great clean air." In the evenings he plays trumpet with a local big band. Pete's favorite vacations are spent camping and hiking.
He has been working with the Oregon salmon fisheries through Project CROOS since 2005 as a chief strategist and scientific advisor. He is also heading up a new segment of the project, due to start in 2009. It will introduce the use of electronic data entry systems to replace the current process fishermen are using to record oceanographic, genetic and habitat information while at sea. The new systems will use a touch-screen interface to enable fishermen to enter data directly into a computer during the normal fishing operations.
There are several current and future benefits Pete believes Project CROOS can provide. The current benefits are:
A direct financial one for the many fishermen who are facing hard times.
A new forum is established for all those who are connected to the fish — fisheries managers, fishermen, scientists, and those who buy and sell fish--to work together to improve fishery conservation and management, and increase the value of the fish in the marketplace.
The future benefit is the project will hopefully influence national and international habits to move toward healthy fisheries, healthy foods, and healthy life.
Pete's overall marine research focuses on the relationships between environmental influences and salmon survival. The research includes modeling relationships between salmon, their habitat and climate conditions; making predictions about salmon abundance; and defining what healthy salmon populations should look like. When asked what he enjoys most about the work he does, he expressed three joys,
"I get satisfaction out of knowing my opinions are respected and considered by a broad spectrum of people in making policy and in improving fishing practices. It is great to be able to pursue my ideas in a variety of directions, and I get to engage with the larger community of biologists and oceanographers working in the Pacific and beyond."